About Us
Our
Vision
is that every person has the opportunity to learn, work, and thrive in all aspects of life.
Mission To achieve our vision, we are committed to dismantling racism and advancing equity, diversity, and inclusion so we can help people reach their fullest potential through education, job placement, and career pathway services.
We do our work with great gratitude for the community donations, purchases, and partnerships that make our mission possible.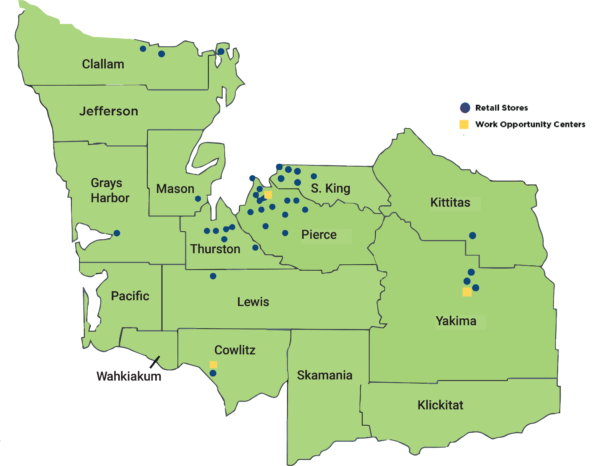 History
In 1902, Edgar J. Helms, a Methodist minister, founded Goodwill in Boston. When he faced a group who asked him for help getting food and clothes, Helms took a burlap bag and went to Boston's wealthy citizens. Instead of asking for money, he asked for whatever clothing they could spare. The Goodwill store was born when Helms hired people in need – many of whom were considered unemployable – to repair damaged items and sell the donated goods.
"A hand up, not a hand out" was his motto. Helms opened Goodwill's doors to anyone with a "willingness to work" and became the pioneer of an organization that gave people hope, dignity and independence by providing them with the means to earn a paycheck and support their families.
His social innovation set in motion a worldwide movement – Goodwill Industries – that has touched millions over the course of the past century.
Growing to Meet Service Needs
It was on April 19, 1922 Goodwill Industries filed formal articles of incorporation to operate as a nonprofit organization in Tacoma. The agency located in the old Central Methodist Church.
Goodwill Tacoma Files Articles of Incorporation
In 1932, its first dedicated structure was built at 356 Tacoma Ave. S.
Goodwill Tacoma Acquires Its First Dedicated Structure
Goodwill Tacoma Operation Begins
In Tacoma, Rev. H.W. Michener – another young Methodist minister, one who had known Goodwill founder Rev. Helms – talked constantly about a Goodwill Industries for Tacoma. In October of 1920, the ladies of Michener's church handed him some leftover materials from a rummage sale and suggested he get started.
Goodwill Tacoma Grows to Need Larger Facilities
During the 1930s, Goodwill Industries became known as the most outstanding philanthropic movement of its time. Goodwill grew so quickly that on five different occasions it was required to seek larger quarters.
Goodwill Tacoma Establishes Branch Operations in Yakima
On Aug. 28, 1952, Goodwill Industries established its first branch operations, setting up a small retail store in Yakima.
Goodwill continued to grow. A new building was constructed, and in 1965, the industrial operations and administration offices moved to 714 S. 27th St.
Goodwill opens new headquarters at 714 S 27th St.
In September 2009, Goodwill held a public dedication for its new Milgard Work Opportunity Center. The 63,000-square-foot facility is a LEED Gold building with five times the classroom space of the previous facility, a Distance Learning Theater and the REACH Center.
Milgard Work Opportunity Center Dedication Ceremony
Goodwill Tacoma Expands to Longview
Goodwill expanded in June of 1962, setting up a small workshop and retail outlet in Longview.
Goodwill Tacoma Goes Online
In 2003, Goodwill began selling items online, through Shopgoodwill.com, E-Bay and Amazon.
blue Boutique Comes to Life
Goodwill opened its first boutique store, blue, in Tacoma's Proctor District in 2012.
In November of 2015, a new Goodwill store opened in Union Gap. This is the first store to feature a brand new modern design to improve the customer shopping experience.
Goodwill WA Opens Union Gap with Modern Redesign
In 2019, Goodwill introduced refreshed vision and mission statements.
Goodwill WA Redefines Organization's Vision and Mission
Rebranded to Goodwill of the Olympics and Rainier Region
In 2014, Tacoma Goodwill became Goodwill of the Olympics and Rainier Region to reflect the 15 county area we serve in Western and Central Washington.
Goodwill WA Places 3,200 People in Jobs
In 2016, Goodwill placed a record 3,200 people in jobs throughout the community.
New Workforce Development Center in Union Gap
In April of 2019, Goodwill opened a new Workforce Development Center in Union Gap — the first job training center to be co-located in a Goodwill retail store.