How Will You Celebrate Halloween This Year?
2020 has been frightening enough and it's not even Halloween yet! October 31 is fast approaching and people are wondering, "Should we go trick-or-treating" "What can we do to keep it fun and safe and not miss out?" "Is it safe to have parties?" So many questions! Well, here at Goodwill, we had the same questions – what DOES Halloween look like this year?
Our recommendations? Stay safe, have fun, and shop at Goodwill for all your Halloween necessities. Did you know we save Halloween donations all year long? That's how we build our spooktacular Halloween departments. On top of that, we bring in new accessories like wigs and fairy wings, so you can create THE perfect costume. But we don't stop there. We gather ideas so you only have to search one place to get inspired. Visit our Halloween Webpage for easy-to-build and affordable costume ideas and DIY décor projects. But don't just take our word for it….
We went to the experts! Halloween lovers of all ages, including moms, bloggers, dogs (yes dogs!) – and asked them how they plan to celebrate. Safety was definitely a key factor, and they shared many creative ways to make the annual celebration spooktacular, even during a pandemic. And, of course, they shopped at Goodwill.
Halloween's Gone to the Dogs
Our favorite canine Wilson, who loves to dress up for our Halloween photo shoots, and his brother Farmer had some great ideas for all his furry friends. Well, their human had the ideas, but you get the picture.
@wilson.goldenretriever @brideonabike
For Halloween this year, we decided to stay home and have our own kind of fun! Together we made homemade dog treats in the shape of bones with cookie cutters from Goodwill, and then delivered some to our neighborhood dog friends.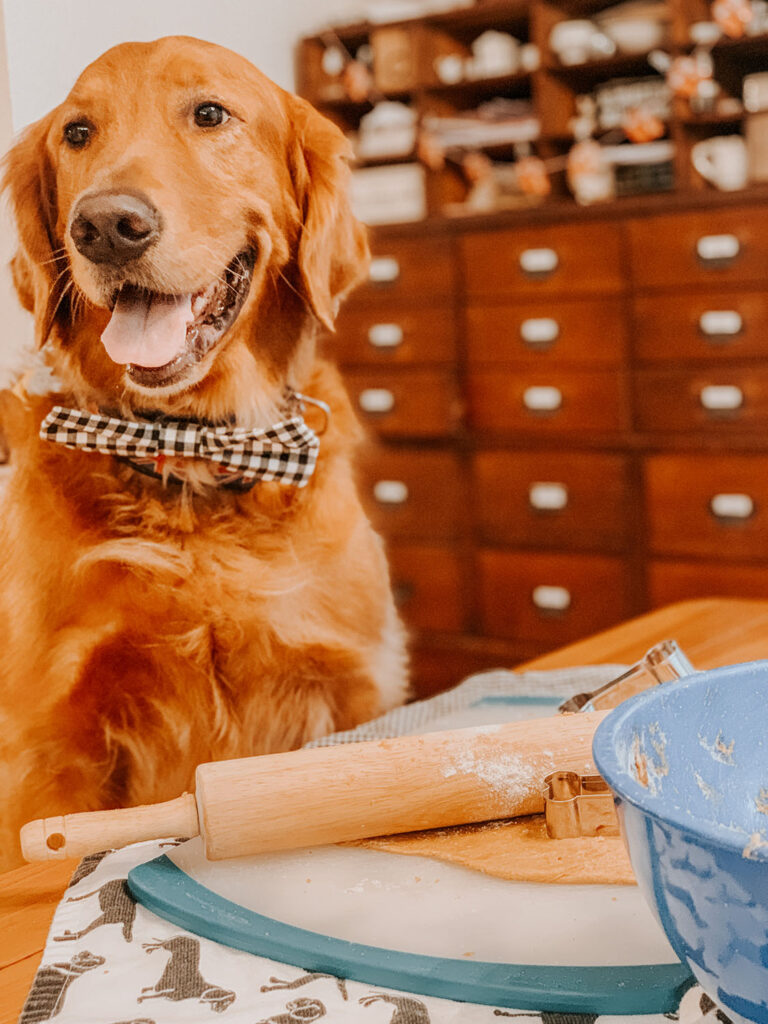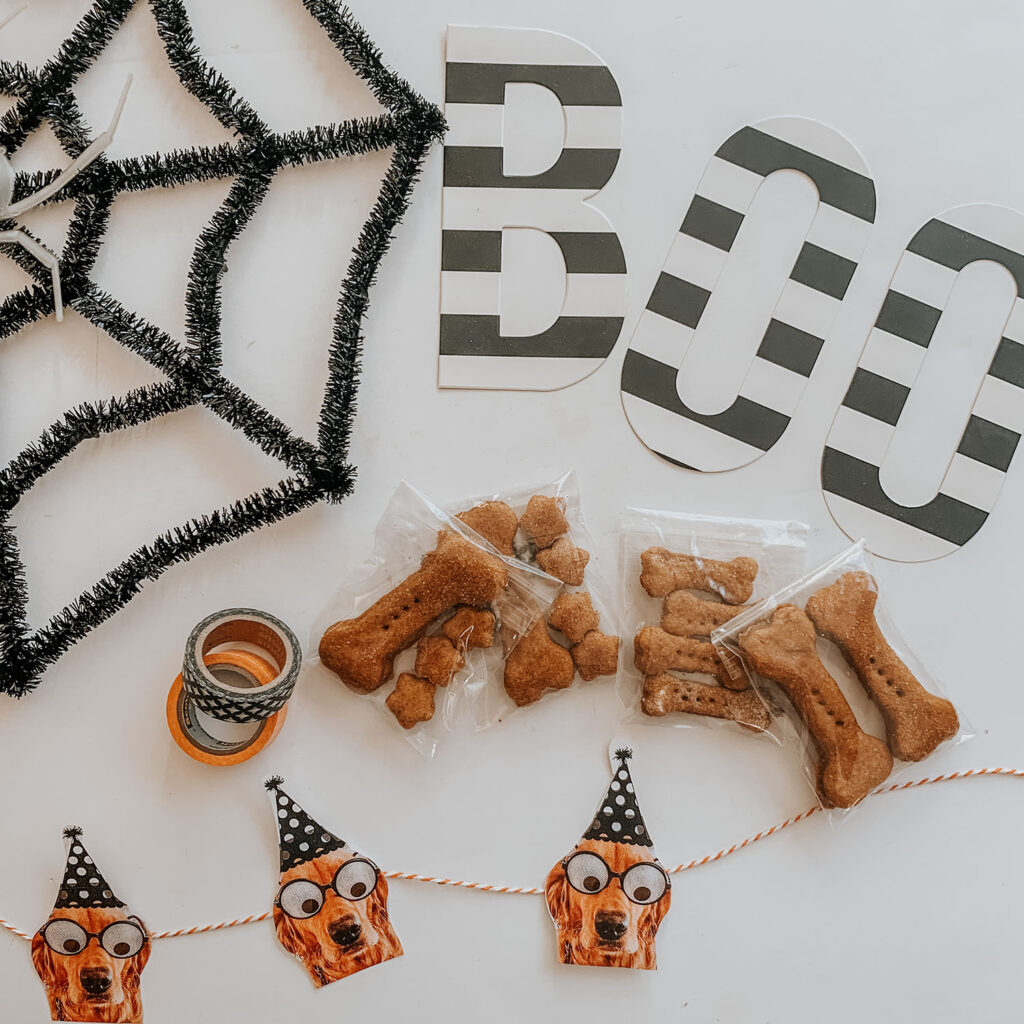 Farmer wanted to bob for apples, probably since it included water! He was really good at sticking his whole face in the bucket of water – another Goodwill find. Then we hung our homemade dog treats from twine and had a fun time trying to eat them! Wilson loved this new game! Trying new things was fun and lots of memories were made!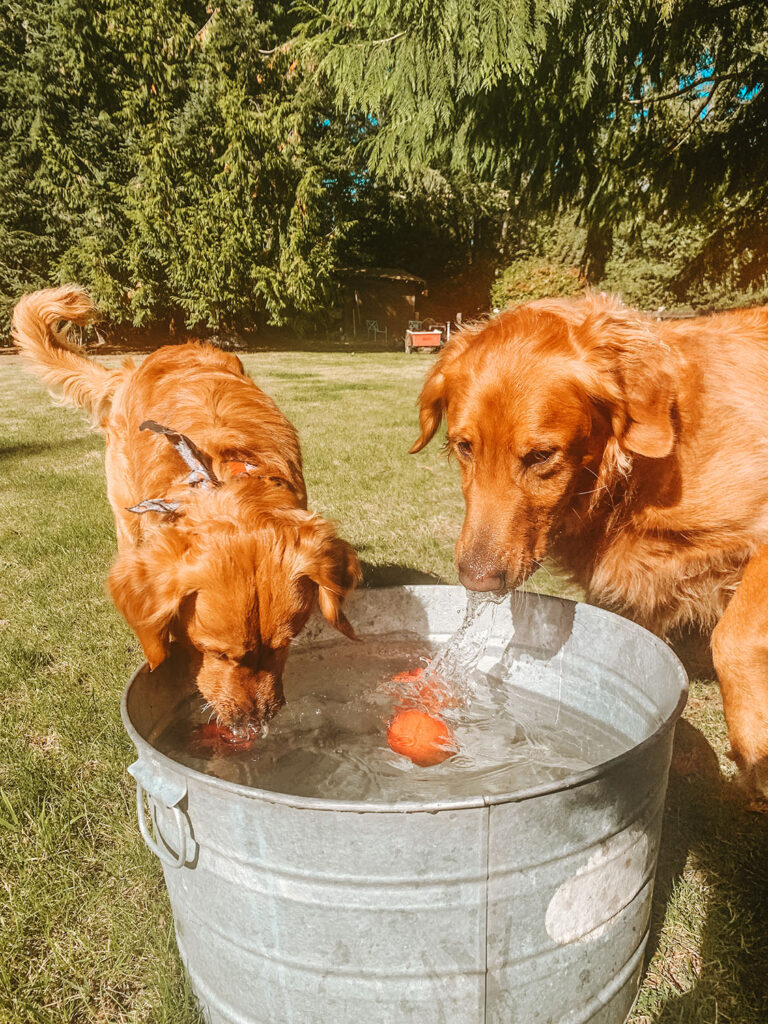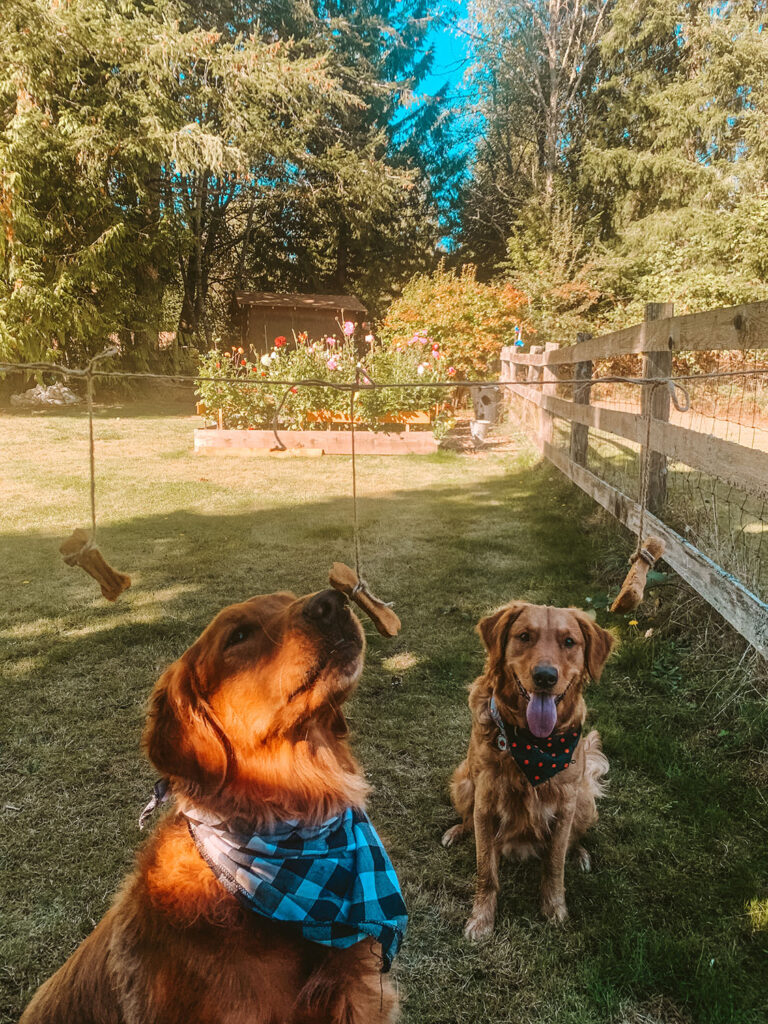 Happy Howl-a-ween!!
Devon, Wilson & Farmer
Ghostly Ground Décor
Parenting Healthy – Erin Sluka
When we moved to our Orting neighborhood 3 years ago, I had not realized until the Holidays that my street goes all out for Holiday decor on their yards and porches. I have been slowly adding more and more decor each year to catch up. There are A LOT of kids on Halloween in this neighborhood! I do not know what Halloween will look like this year. Many parents I know plan on trick-or-treating so whether they come to the door or not, we will decorate outside!
My first stop each Holiday for decor is Goodwill. I found such a good Halloween haul at the South Hill store in Puyallup this week.
I found many ground decor and spider webs. I also found door decor and items for my porch table. I was able to plug lights in while shopping so I knew I was buying items that worked. I also love that they have a 'creepier' section this year. I brought my haul home and we set it all up outside right away. I really scored at Goodwill this Halloween season!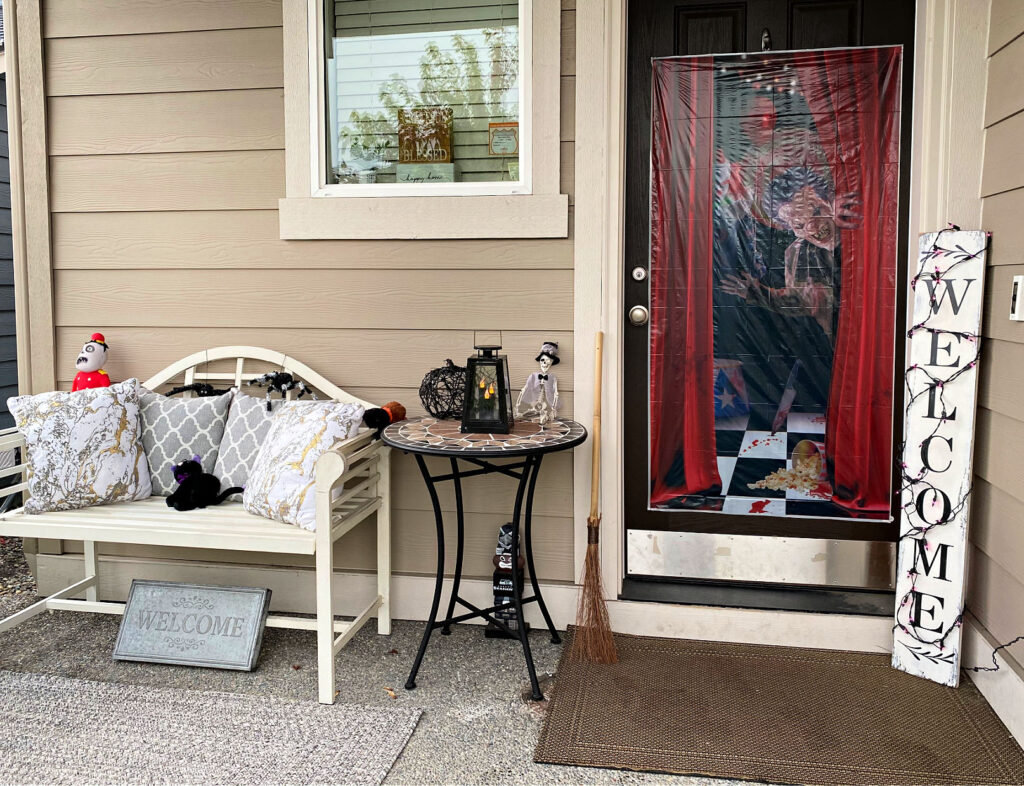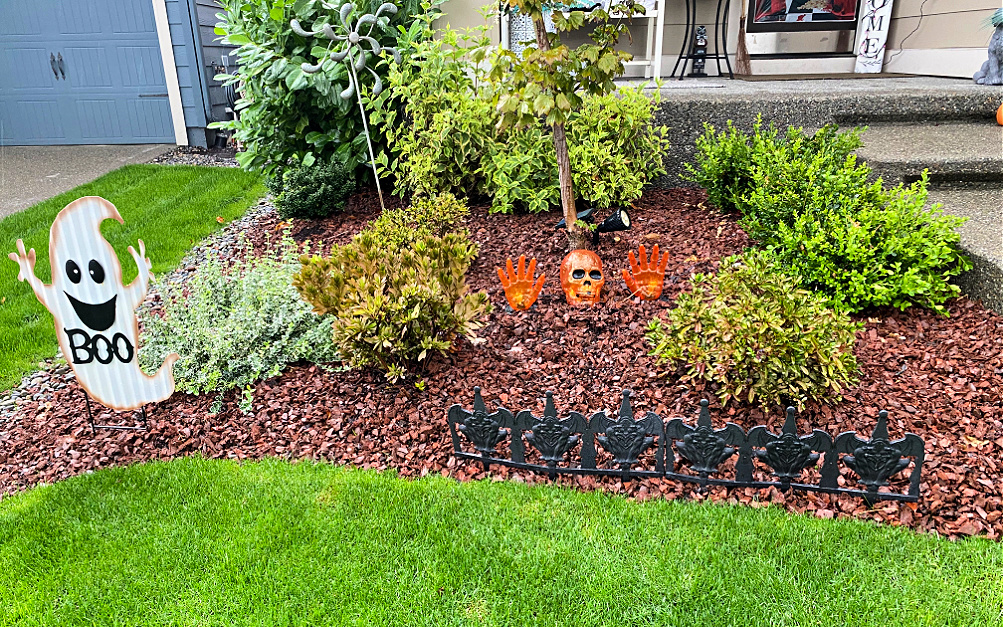 Keeping it Spooky and Safe
Morena Ledesma, Goodwill Employee – Halloween Expert.
You may remember Morena and her kiddos from past Goodwill Halloween events – she's the one with a storage locker FULL of costumes. During October, she wears a different costume every single day to work at the Puyallup Goodwill. You might say she knows a thing or two about building the perfect costume.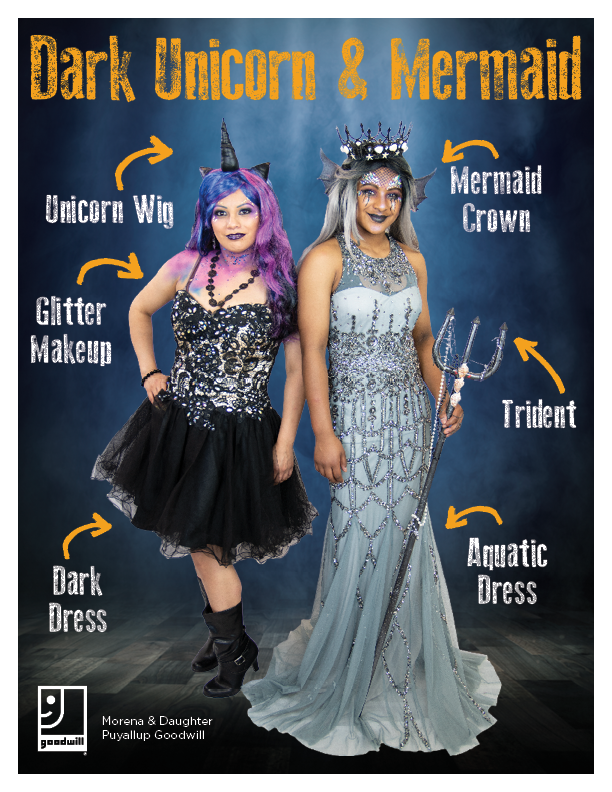 I have 3 kids ages 4, 7, and 15 who all share my same love of Halloween. This year, my family and I are still going to dress up for Halloween and we always buy our costumes from Goodwill. We'll go trick-or-treating, but just around the block. And we are going to go all out – like we do every year – and decorate our front yard to scare the kids – with items from Goodwill, of course!
The only thing we'll do differently this year is to buy latex gloves and sanitizing wipes to wipe down candy and to clean the door and doorbell. We'll put our masks on when the kids come to the door and we'll ask them to put their bags down and step back 6 feet so we can safely put candy into their bags.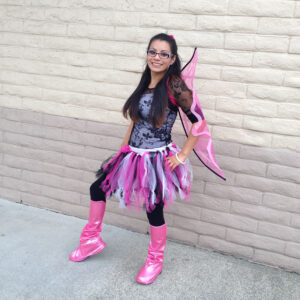 Boo-ing Our Neighbors
Marcie in Mommyland – Marcie Cheung
One of our favorite Halloween traditions is our neighborhood Boo-ing! That's where we secretly drop off trick-or-treat buckets filled with all kinds of fun Halloween goodies for kids. This happens throughout the month of October and it's something we all look forward to. We're so excited to be able to continue this awesome Halloween tradition while practicing social distancing. My kids and I headed to Goodwill to look for containers and full items to spread a little joy this Halloween season!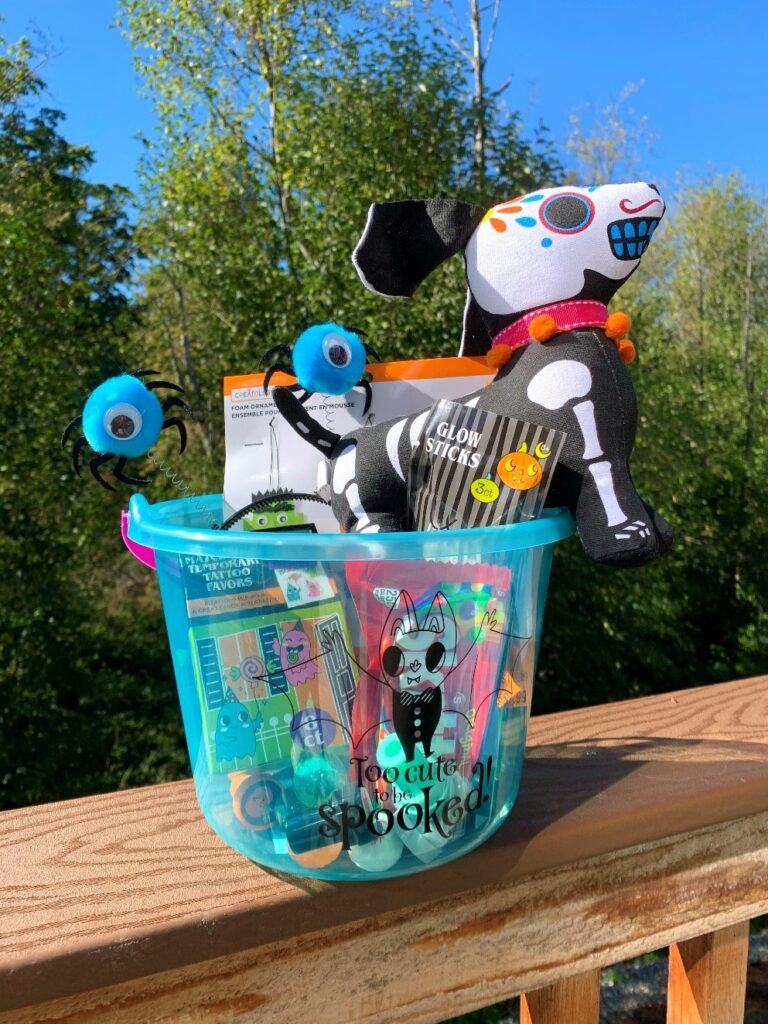 A Night of Retro Fun
@iloveyou2thethriftstoreandback – Gabriella Patterson
Hello my fellow ghouls & goblins, this year has been frightening to say the least with the pandemic! Just because we need to remain socially distanced doesn't mean Halloween is gone for good. I believe we can keep the spirit of Halloween alive if we can get creative right in our very own home!
Halloween is big on treating yourself, which is one of my two main goals is this year. The first one I'll mention is a completely different vibe for Halloween night. Being 26, I usually go to big parties, but this year I mostly want to be relaxed with treats, sweets, a super-hot chai tea with spooky pjs, Halloween socks, a blanket and my hair in a bun. Then putting my VHSs into the $1.99 vintage Toshiba TV I got from Goodwill!
I have found plenty of holiday classic VHSs through the years at Goodwill stores for amazing prices! The same goes for Halloween mugs, clothing, accessories & decor! I'll also light a few candles & decorate to set a spooky scene. There's nothing more classic than watching a Halloween movie, and it will honestly be nice to lay low and pamper myself for once.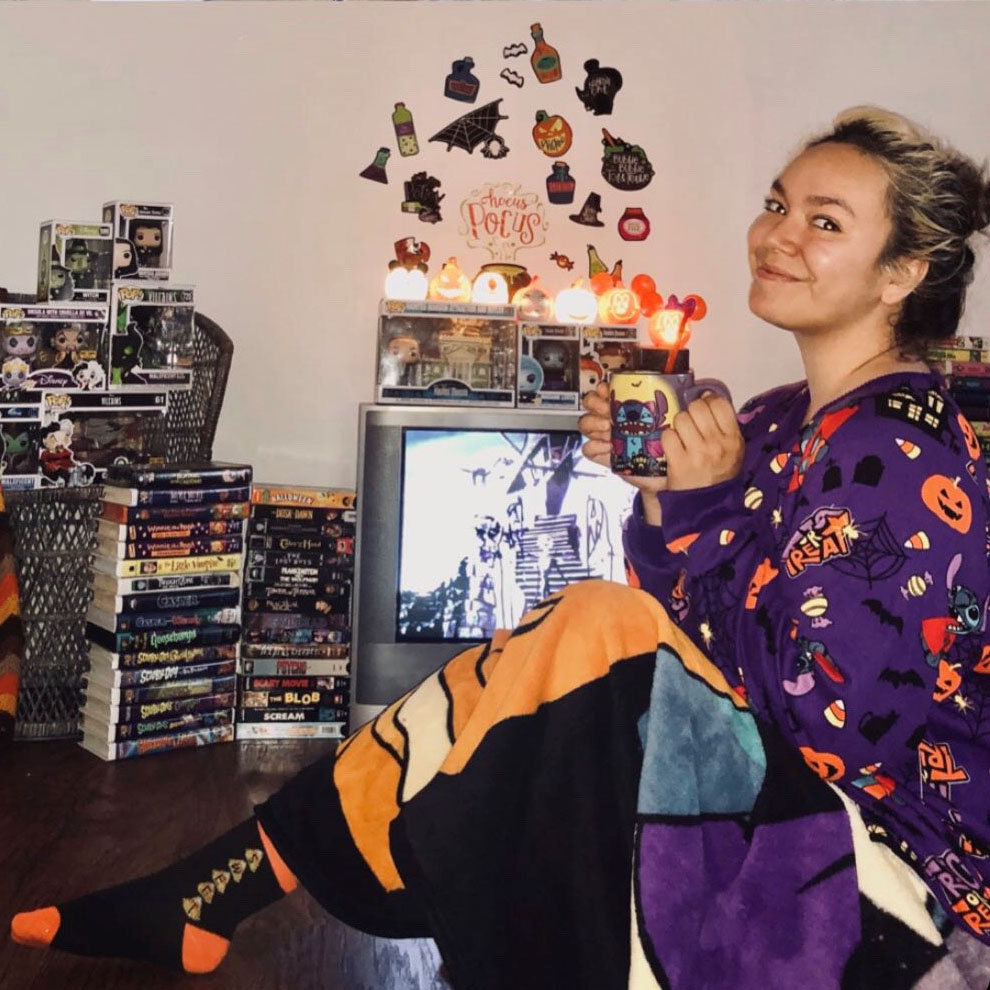 My last but not least FAVORITE thing to do for the spooky season is create MY COSTUME! The most anticipating, nerve wrecking, time consuming, idea com-bobbling factor in this holiday for me is that I start brainstorming a year ahead. To prepare, I make a trip to my favorite go to place, Goodwill, for all the things I need. I also never fail to find things I didn't know I needed (lol) but absolutely goes together perfectly. Whether it's putting together my day-to-day themed outfits during the Fall, creating & showcasing easy DIY costumes or posting my annual Halloween day costume, I simply don't need to go anywhere to play dress up this season.
However you choose to celebrate this year, whether starting new traditions or having fun with old standbys, when you shop at Goodwill for Halloween, you are helping to provide free job training and career pathway services to people right here in the South Puget Sound. The Pirate costume you purchase will help provide a single mother with free computer training and a path to a better life. So celebrate Halloween this year, and help someone change their life.
HAPPY HALLOWEEN!
Shop Safely at Goodwill: We are committed to providing a safe environment and experience for all of our staff and customers. To learn more about our COVID-19 health and safety requirements CLICK HERE.